Airport Consolidated Rental Car Refueling Facilities
In 2020, ARID installed a PERMEATOR unit at the Daniel K. Inouye International Airport (HNL) in Honolulu, Hawaii. Previously, ARID installed a similar unit at the Austin-Bergstrom International Airport (AUS) in Austin, TX. ARID coordinated PERMEATOR installation with Conrac Solutions in Texas on their 5 level, 1.6 million square foot facility and with Contrack Watts in Hawaii on their 5 level, 1.8 million square foot facility. These facilities consolidate all rental car operations, including vehicle pick up and drop off, car storage, cleaning and fueling into a single facility.
Field Engineer D. Mitchell after commissioning the Permeator at Daniel K. Inouye International Airport (HNL) - Honolulu, HI
Previously, each car rental agency operated separate service centers to accomplish the above processes; suffering many inefficiencies and duplication. Consolidating the diverse array of services has proven to yield significant operational and environmental efficiencies. The combined fuel facility conducts vehicle refueling on vertical floors, where the storage tank vent and fugitive fuel evaporative emissions are significantly reduced or altogether eliminated by operation of the ARID Permeator. The ARID Permeator actively manages the combined ullage of the storage tanks to reduce emissions and conserve fuel at these busy facilities.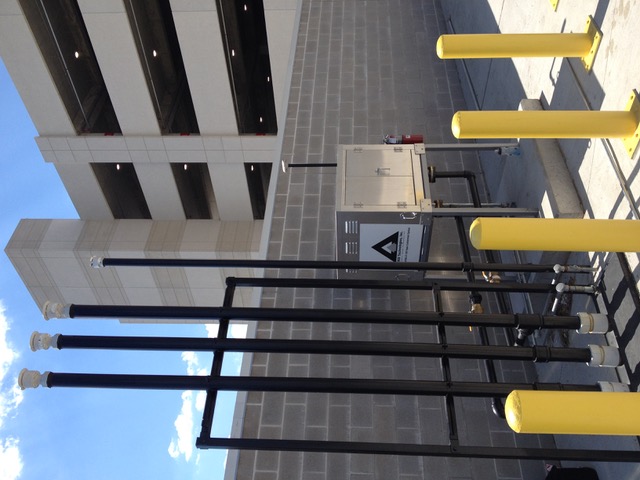 PERMEATOR Installation Austin-Bergstrom International Airport (AUS) - Austin, TX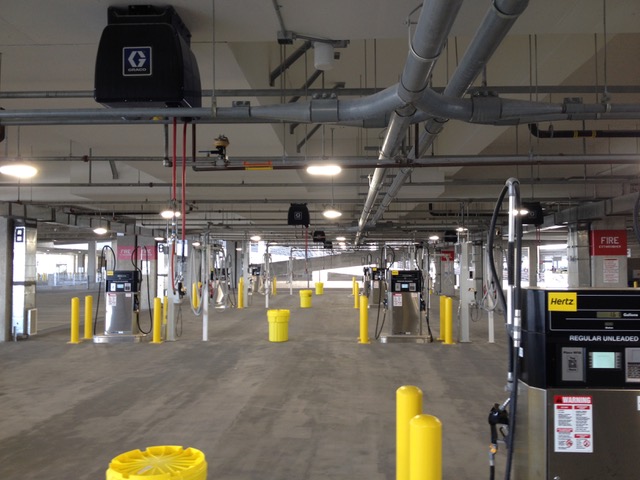 Austin Bergstrom International Consolidated rental car facility; 3rd floor showing dispensers and vacuum systems.